Yesterday I received package with old device: T-Com Speedport W500V. It is ADSL modem with router, WiFi accesspoint and VoIP bridge functionality. Internally it is just standard set for such equipment: MIPS SoC from Broadcom, 16MB of RAM, 4MB of Flash storage.
After connecting it to my laptop I disabled most of functions (DSL, AP, DHCP/DNS/HTTP Proxy daemons etc) and tested VoIP calls (with Tlenofon as provider). It worked without any extra configuring — I think that this is due to BitSwitcher firmware which was installed instead of original one.
Today I disabled LAN port, configured WiFi to work as a client and moved W500V with analog wireless phone to shelf in corridor. What people see is just base for phone — rest is hidden in wall cupboard and operate over WiFi.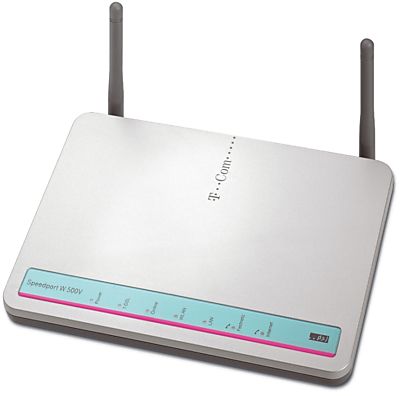 And this is how yet another Linux box got added to my collection… But this one got something to do on first day ;)