Today is second day of my OpenMoko 2007.2 testing. I do it as part of my work for OpenedHand and this gives me possibility to discuss bugs with applications authors before reporting to get some details.
Flashing
I flashed u-boot from 2007.08 snapshot release, self-built kernel 2.6.22.5 and openmoko-devel-image from yesterday (also self-built). Had to connect Neo1973 to other computer as my desktop refused to flash with DFU-util (laptop did not had such problems). I did not had a problem with Neo connected via USB Hub.
System start
Start of phone is nice — first you get full screen OpenMoko logo, then few kernel messages (about 10 lines) and psplash starts so all messages are hidden. When X11 starts there is another full screen OpenMoko logo with text informing that UI is starting. Then OpenMoko-Today2 is started. BTW — to get back to Today you only need to press AUX button.
Today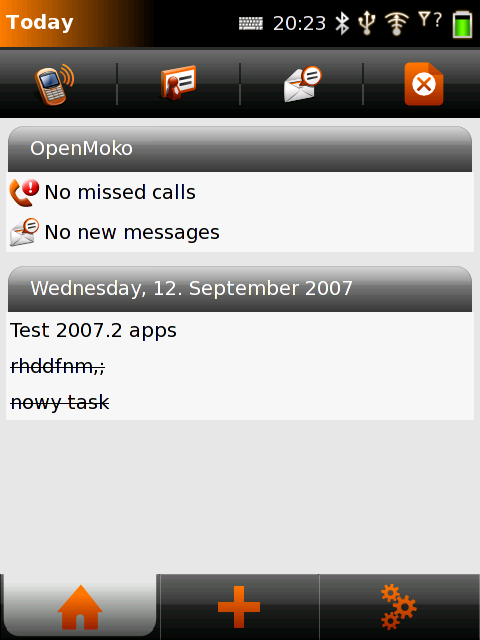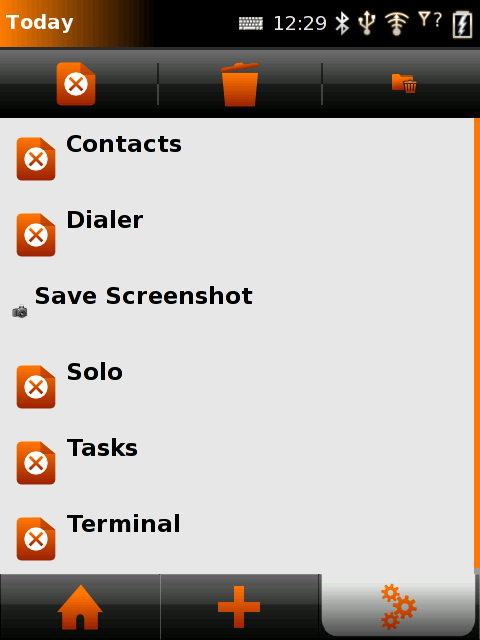 Today screen gives access to Dialer, Contacts, Messages (not installed as there is no version for OM 2007.2), Calendar (which icon is missing — reported as bug #830). Second tab works as application launcher — with kinematic scrolling, selecting group to display, filtering — useful and nice looking.
3rd tab allow to switch between running applications (also possible with tap-n-hold on titlebar), force close of all (with confirmation) or close selected one (but no confirmation so bug #818 reported). Another problem is that most of icons as shown as default ones — reported as bug #837. Those which are shown properly ("Save screenshot" on screenshot) gets wrong size — bug #838.
Dialer
Next tested application was Dialer. I was able to make few calls from and to phone but did not checked voice quality. There is no history of calls currently — bug #839. I also spotted two other bugs (#814 and #819) but they are solved now.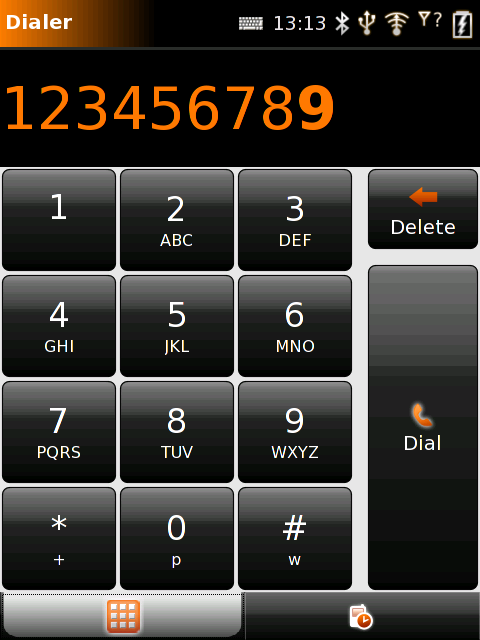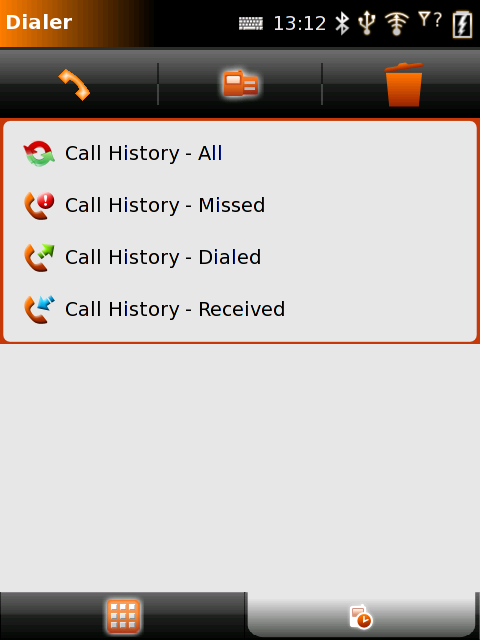 Contacts
Finally time comes for Contacts application. I did not used it before so it was something new for me (Dialer and Today were first OM 2007.2 apps). Core functionality listed in OpenMoko wiki works.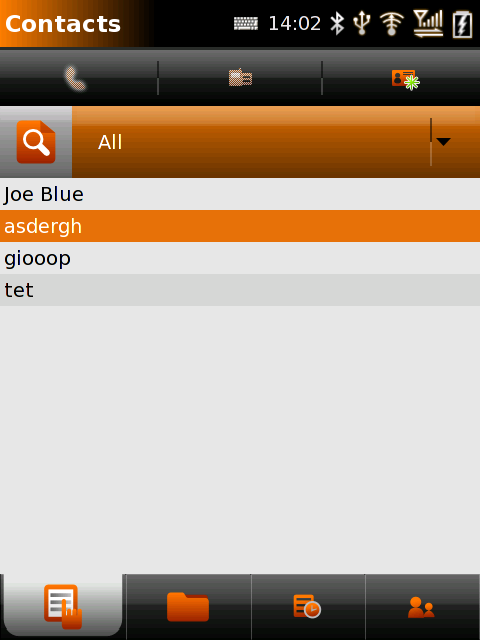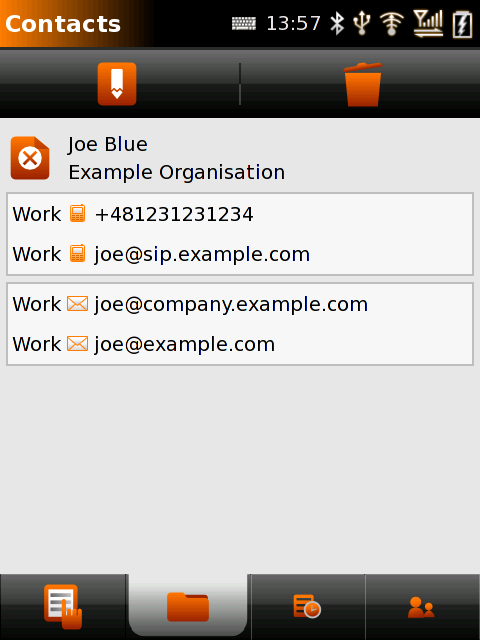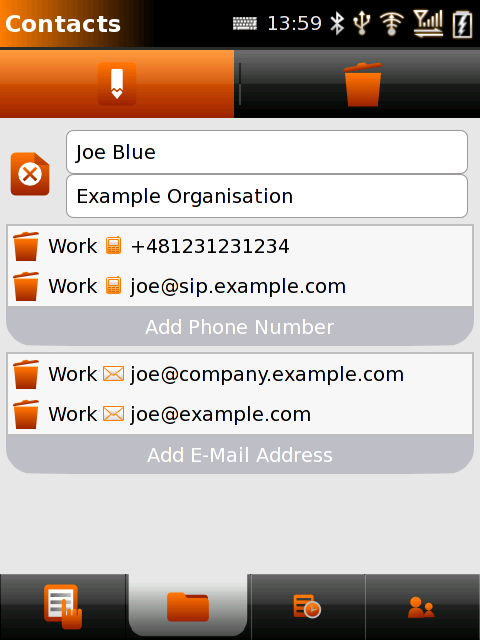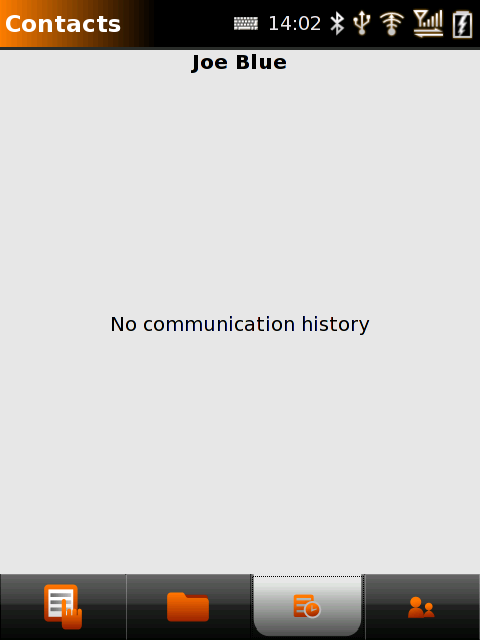 Entered first contact using "New" button (top right one). Wrote fullname, organization, phone number, emails and pressed '!' button (top left one). Then I switched into list (first tab) and there was no entries. When I added second entry then first one was visible will fullname and second was empty. When I selected first one then fullname from second one appeared. It looks like refresh of list is needed after edit is done. Reported as bug #815.
I had few contacts so it is time to check does filtering works. MokoSearchBar functionality works like it should but there is no information that view is filtered so I posted bug #829. Also widget does not looks so nice so I posted another bug — it was #835.
Like in Dialer there is no history of communication (calls, messages, mails) yet so 3rd tab is useless now — bug #843.
Groups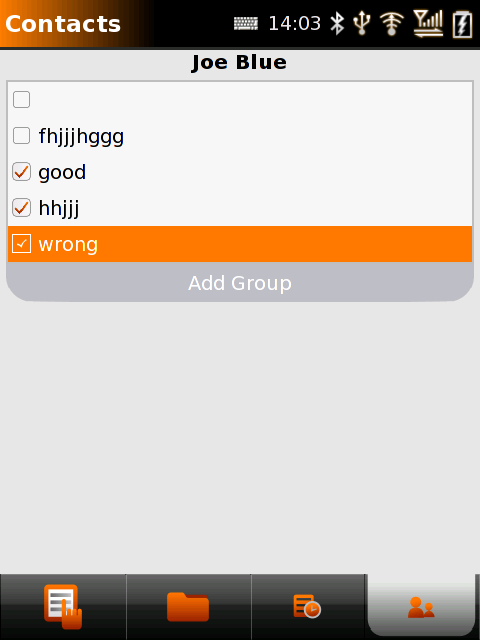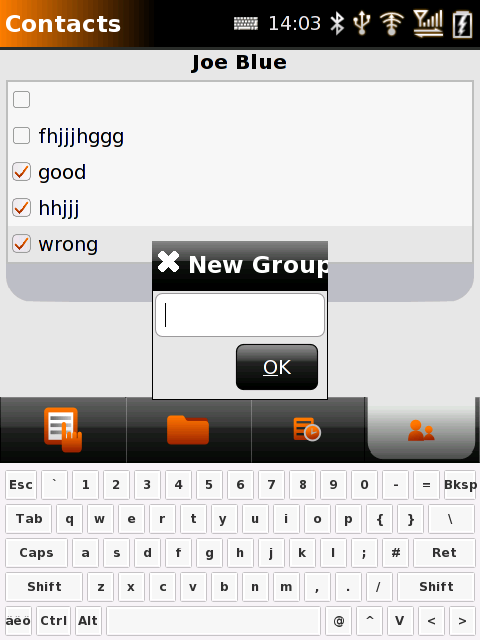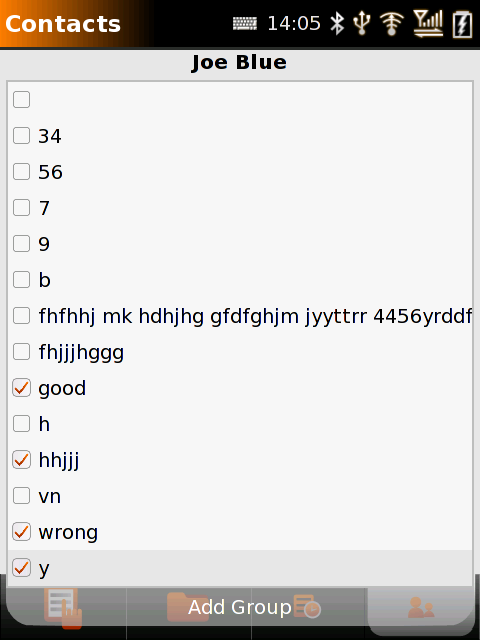 Last tab is group view. This also needs some work done. There is no way to remove (bug #822) or edit (bug #825) group. Adding new one use requester instead of making it inline like it is in edition of contact (bug #824). And there is a problem when there are too many groups — they overlaps with bottom tabs (bug #821).
During testing of groups I spotted another theme bug — selected checkboxes are not styled like unselected are — bug #823 reported.
Dates
OpenMoko Dates is not yet ready for testing so I will not write about it. According to posts on Chris blog it looks more and more interesting.