Few days ago I shared my thoughts on replacing Zaurus palmtop with other device. According to comments few people do not understand why hardware keyboard is so important for me.
Collie
Nearly 4 years ago I bought my first Linux powered PDA — Sharp Zaurus SL-5500 (codename: "collie"). One of nice features was hardware keyboard: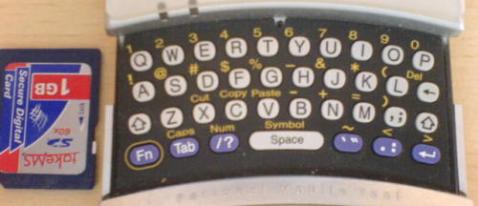 It is thumb operated keyboard but usable after a bit of learning. You have everything needed to operate in console, writing text — even Vi is usable ("Cancel" key works as Esc).
c7x0
Time passed and I got another Zaurus — this time it was clamshell model — c760 (codename: "husky" or "c7x0"). This device has great keyboard. Keys are small but there is separate row with numerical keys so it is improvement from "collie" one.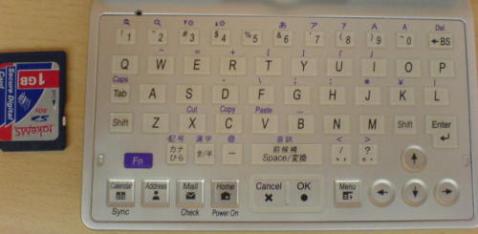 Those Japanese keys right to "Fn" one are mapped as "Control" and "Alt" so user can even try to use Emacs :) For Vi lovers there is "Cancel" key which works as Esc.
Tosa
Another months passed and another Zaurus arrived at my place — this time is was SL-6000L (codename: "tosa"). It has keyboard similar to "collie": but more comfortable due to size of keys: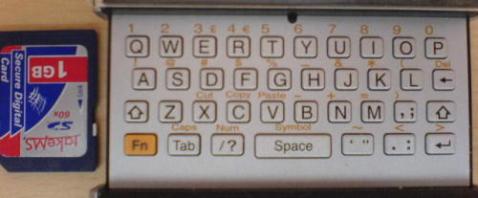 "Esc" is on "Cancel" like it is in collie.
N810
Recently one Finnish company released new product from their line of tablets: N810. It was their first tablet with integrated keyboard. Thanks to photos provided by Koen I can comment a bit on it too. It it similar to "collie" and "tosa" keyboards when it comes to mapping (no numeric keys, lot of symbols available only with "Fn" key) but it also lack "Tab" key which can make shell using a bit harder.

There is "Esc" key — one of side keys works as one (not visible on photo).
Summary
For now the best keyboard is "c7x0" one — all needed keys are available, lot of others can be made available by editing keymap. And when I have to hack something on device good keyboard is one of most important things. I can not count how many times I ended with having 3-4 consoles running on my c760 with miscellaneous applications started due to amount of hacking required by projects.
Akita/Spitz
UPDATE: Matthias 'CoreDump' Hentges reminded me about Zaurus SL-Cxx00 keyboards (used in c1000/c3000/c3100/c3200 models):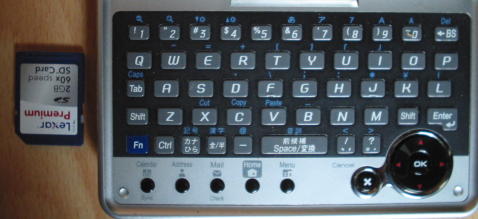 Yes — they are similar to "c760" one but have changed cursors into 4-pad and each key is separate one — they are no longer parts of membrane. Many people found that one more comfortable then "c7x0" one but I am not one of them — used both and still prefer older one.