Today I got case for Alix.1c mainboard. For reminding: this is PC Engines board in mini-ITX format, powered by AMD Geode LX800.
Package arrived from Koan Software and contained one of their products: MiniPC 2PCI case.
Package contents
There were many addons in the box:
60W 12V

AC

adapter
2.5"

ATA

-> Slim

DVD

/

CD

adapter

PCI

riser for 2 slots
wall mounting elements
2.5"

ATA

3.5"

ATA

adapters
bracket for 3

DB9

connectors (additional serials anyone?)
AC adapter is added because case contains small PSU with few connectors. I do not use it because Alix.1c mainboard consists similar one already (and lack ATX power connector).
Inside view
Inside case there is a lot of space available: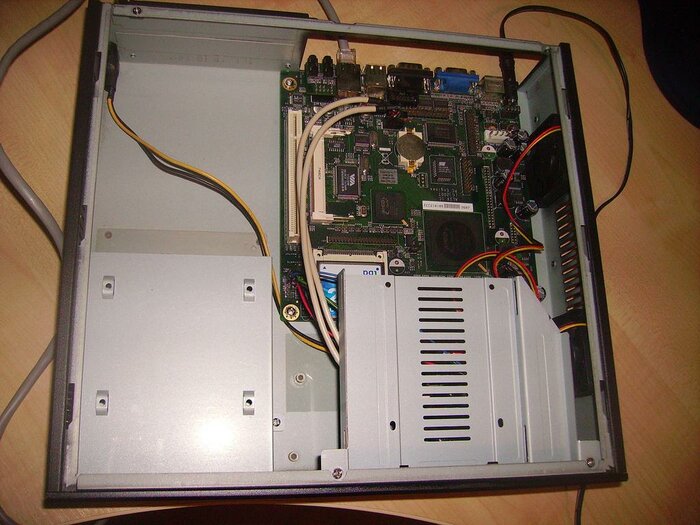 There are mounting places for 3.5" HDD, 2.5" HDD and slim DVD/CD drive (signal adapter attached). There are also 2 fans (60mm each) but I left them not connected (Alix does not require cooling and lack sockets for fans).
Front panel

Front panel has 2 USB sockets, HDD and power leds and power button. As usual in mini-ITX cases there is no Reset button. Not present in my case (but available as option) is CompactFlash slot accessible from front. I did not ordered it because Alix has such one integrated.
Summary
Case is very high quality made — no sharp edges, easy access to all peripherals. And all those addons which are in a box makes overall cost smaller. If someone is searching for good mini-ITX case then MiniPC ones are good choice (and there is smaller version without place for PCI cards).
PCI

3.3V :(

As I wrote before I plan to make router based on Alix.1c — but after putting it into case I discovered one problem with board itself. It has 3.3V PCI slot so I have no use of PCI riser which was added to case. Will search for VIA one because it is universal (3.3V/5V) so I will get slots (but have to remember that cards have to accept 3.3V signals).