There are moments in a life when we want to change something. So I changed place of living.
Moved out of rented flat into my own one. Still Szczecin, still suburbian part of it (I moved by about 1500 meters). Nothing fancy, plain 3 rooms but it is mine (once I pay bank's part in next few years).
It needs some changes as I am taller than previous owners. My list of ideas to make gets longer and longer each time I see something interesting in store of someone's home.
Server wardrobe
Previous owners left several built-in wardrobes so I decided to use one for my servers. Moved my NAS, router, HoneyComb and Mustang into top shelf with all required cabling. This way none of them occupy my desk area.
And why 'server wardrobe' name for it? In Polish we use 'szafa serwerowa' for 'server rack'. But 'szafa' is also 'wardrobe' so that's why :D
New desk for my office
In previous years I used a custom made desk. It was real monster — L-shaped with several shelves under. That allowed me to keep multiple systems running on/under desk (there were times when 16 ports in Ethernet switches were not enough).
But it was also heavy and hard to manipulate/move. So it went to trash.
For first days I used some table but it was not the right choice. In meantime I looked at several setups and desks to find which features to look for.
Finally ended with buying VS series 901 desk. 180x90 cm gave me a lot of space, all cables go though dedicated gap into cable organiser under desk. And there I have Ethernet switch, laptop's docking station (and it's power supply), power supply for my monitor, usb hubs and all cables. No more floating cables! And all that for ~100€ for used one.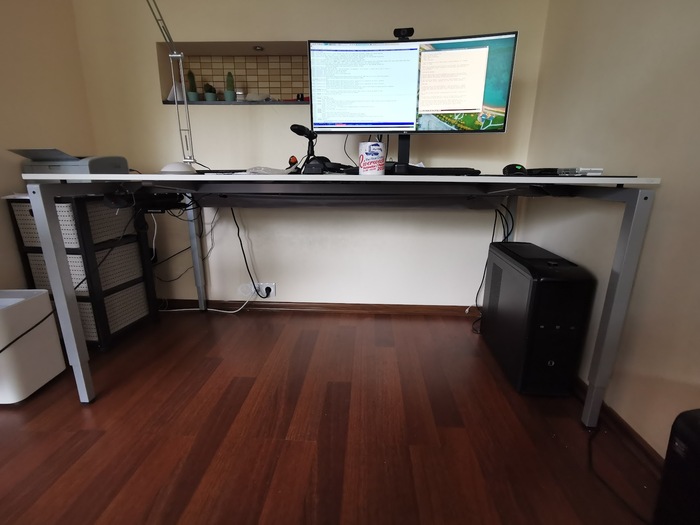 Still need to buy some office storage unit with some drawers — it would go on left side of desk (where currently bathroom drawers are present). Looking through used office furniture again.
Hall of fame
On photo above you may see shelf behind my desk. I plan to organize some kind of 'Hall of fame' there for devices which helped with my carieer:
Sharp Zaurus

SL

-5500 (got one recently from Andrea Adami)
Atmel

AT91SAM9263

-

EK

developer board
Applied Micro Mustang
And few other ones as I need to track where I have them first or where I can get them (anyone has spare ST NDK-15?).
Trådfri
Due to some weird location of light switches I decided to speedup a bit and move most of home lights to controllable ones. To make things easier I went into system used by one of my friends: Trådfri by Ikea.
Lights, motion sensor to get some dimmed light during night walk to toilet, remotes etc.
Summary
It is good to have own space for living. I can alter it in any way I want. Without checking will it be useful for short people.