During Linaro Connect SFO17 I had an occasion to take a look at first 96boards Enterprise Edition MicroATX format board: Socionext SynQuacer. Can it be called first 96boards desktop machine?
Just to remind — 96boards EE specification defined two form factors:
custom 160x120mm
MicroATX
There were attempts to build boards in that custom format (Husky, Cello) but they both failed terribly. Turns out that companies which are able to produce 96boards CE boards are not able to make more complicated ones.
Connect ago I wrote about Systart Oxalis LS1020A board as being first 96boards EE one but it used that custom format.
So going back to SynQuacer board…
I would say that it looks like typical MicroATX mainboard:
four memory slots (

DDR4

, up to

64GB

,

ECC

or not

ECC

)

CPU

under heatsink (24 Cortex-A53 cores, 1GHz clock)

PCI

-Express slots (x1, x1, x16 with just 4 lanes)
two

SATA

ports
Gigabit Ethernet port
two

USB

3.0 ports at the back
connector for another

USB

3.0 ports
96boards low-speed connector (think sensors, serial console, tpm etc)
24pin

ATX

power connector (no extra +12V ones)
power and reset buttons
fan connector

JTAG

port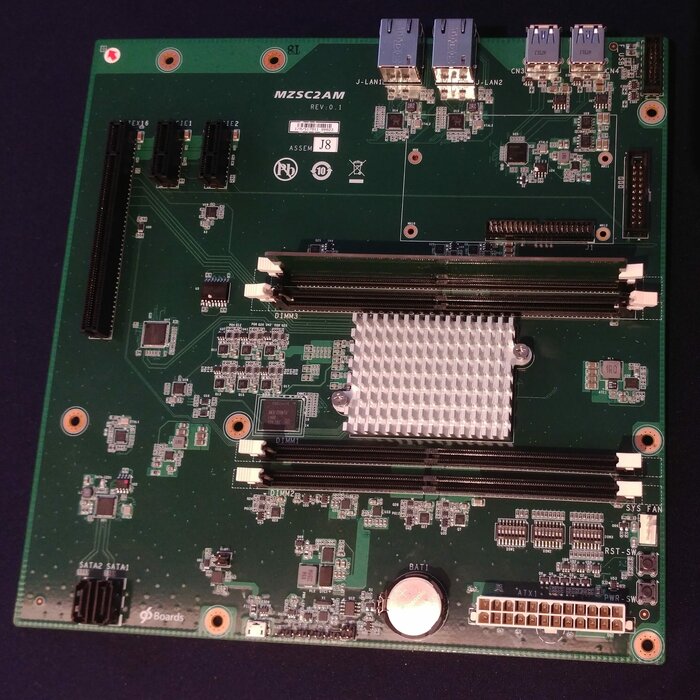 The official announcement did not provide information about price. Only info present was that it will available in December 2017. During discussions with Socionext representatives I was told that full developer box will cost around 1000 USD and involve mainboard, memory, storage (rather not SSD), case and graphics card. Price for just mainboard was not provided as it looked like such option is not planned.
From software point of view there was UEFI presented. With graphical boot. Upstreaming kernel support is in progress (Linaro provides 4.14-rc tree with required changes).
Will it satisfy a need for AArch64 desktop? Time will show. From what I got from developers using it already performance is quite ok as long as it is multithreaded (so kernel build goes nice with -j24 until linking phase kicks in).
Other option for AArch64 desktop would be Macchiatobin. Latest revisions are needed as PCI support got fixed (I was told that first revisions were unable to fully use PCI Express port). Bernhard Rosenkränzer was demoing such setup and it was running nicely.