Few days ago one of my friends asked me for help on choosing laptop. The idea was "I want to buy laptop to use instead of my 7 years old desktop". We were discussing few options and he finally found Dell Inspiron 9400 for less then 1000 EUR. It is interesting machine:
17" display with 1400x900 resolution
Core 2 Duo cpu

2GB

ram

ATI

X1400 gfx card

160GB

Serial

ATA

disk
After checking who seller is we decided that I will go and buy that laptop (seller was from Poznań).
Yesterday I bought that beast and I have to say one thing — it is HUGE (bottom one on photo). I am used to my 12" D400 (top one on photo) and sometimes I use Ania's 15.4" laptop (middle one) when I need MS Windows.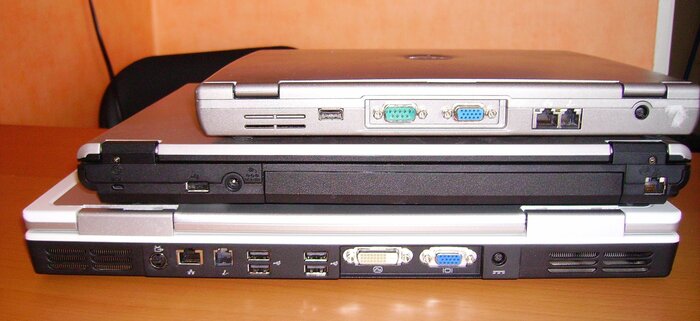 As usual it comes with MS Windows — this time it was Vista Home Premium. It was my first time with Vista — so now I can tell that I used all MS Windows versions (from 1.01 to Vista). What do I think of it? Hard to tell because I do not used it too much. Looks nice and takes some time to find things which were in XP.
Now when I used 17" laptop I know that I do not want such one — 12-15.4" are enough size for travelling. And for desktop I prefer desktop machine with big LCD then 17" laptop.