FOSDEM. Free Open Source Developers European Meeting. Every first weekend of February. In Brussels. At Université libre de Bruxelles.
I used to say that FOSDEM is a week long conference in two days. I don't think it is valid any longer. Should say two weeks now as last time it was something about 700 talks. Still during two days.
I also used to say that I can not afford not being at FOSDEM. It is probably the easiest way to meet developers from all those projects I worked with or was interested in.
But it is not just Saturday and Sunday. On Friday evening there is a beer event which nowadays takes place at street leading to Delirium Café. Can be hard to get there due to number of people but it is worth it. Easy way to meet far too many familiar faces. And get beer (once you managed to reach bar).
But how to survive FOSDEM? Food. Logistics. Clothes. Logistics. Mobile app.
Logistics
Yes, logistics is one of key factors when it comes to this conference.
Lectures take place in several buildings (AW, H, J, K, U). At same time. Getting from one to another takes time. You can meet people on a way and decide to discuss something rather than go for talk.
Since few years ago there is even online navigation tool to show you which way to go from one place to another. Very handy especially if you have some mobility issues.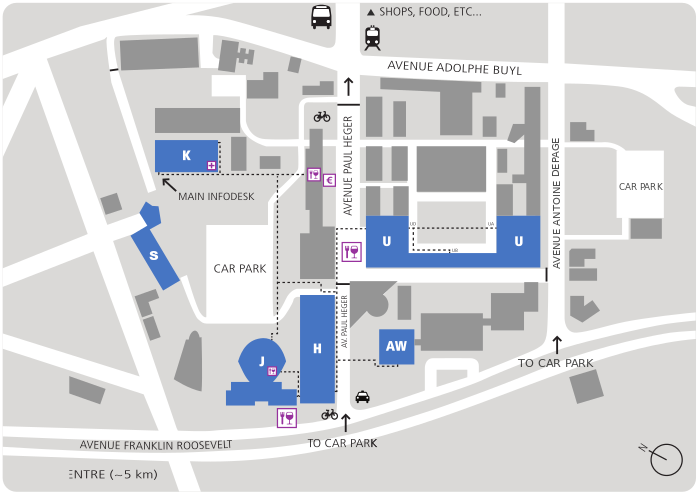 Sometimes it is worth to be in some room session before just to have a seat. Limits are taken seriously and when info on door says "room full" then do not even try to sneak in. You may find some spot and watch live streaming — just remember about good headphones to not interrupt people around you.
If you need a quiet place to sit for a bit with your laptop then you can go to cafeteria in F building (crowded, noisy) or sit in hacking room (quiet) in the middle of H building.
Hotel
Get place to sleep in city centre. "Crawling distance from Delirium Café" is perfect as this is where lot of people spend Friday's and Saturday's evening/night. Also several places to get various food, some grocery stores (just check opening times), pharmacies, GSM shops etc.
Public transport
Use whatever you normally use (Google Maps or so) to check for it. If possible avoid bus 71 if you go on popular time and not from the first stop. It gets full right on start and keeps that way until FOSDEM stop.
On Sunday afternoon (15:30 - 19:30) there are free buses from ULB to Brussels South (Midi) railway station. Easy way to get to BRU airport. Full of people so it is good to have some alternative routes in mind. One of options is getting to Etterbeek railway station (about 1.5 km walk) and then travelling wherever you need.
Tickets
When it comes to tickets…
First of all check STIB ticket information for options as they change from time to time.
Nowadays (2023) it looks like using bank card is easiest way. Just enter bus/metro/tram and tap to pay.
Note that there are some single use tickets still in use if you prefer not to use bank card.
Mobile application
As long as your phone is able to run applications check Mobile schedule apps list at conference website and choose one. I use 'FOSDEM Companion' on my Android phone.
Install application at least week before the event. Sync schedule and start checking which sessions to attend. Ignore fact that some will overlap. It is always better to have more listed than less — sometimes you sacrifice one due to being in wrong building or room will be full so you can take a quick look at list and go somewhere else.
Internet access
Once you reach FOSDEM there is no problem — conference area provides you fast wireless network access.
If you are from one of EU countries then your GSM operator probably provides you with some data limit for "Roaming Like At Home" functionality.
If you are from outside of EU then I suggest reading prepaid with data wiki page. GSM operators stores are in several places in city centre. Or you may even manage to find some at airport but easier to just grab one once you reach centre.
Food
Eat proper breakfast. Not "just a fruit and coffee" but some proper one. You may not have a time to stand in a queue for some FOSDEM food. It is not worth your time.
If you really have to then go to bar under J, have exact change and buy a sandwich. Not best food but you may get it quick.
Better option is to just have something with you. Get fruits, nuts, energy bars, chocolate. Some kind of quick calories.
Or spend half an hour (or more) waiting for fast food. Still good opportunity to chat with people.
Beer
Remember that Belgian beer can be stronger than your normal one. Do not drink too much or you will suffer and be too wasted during conference.
Clothes
FOSDEM is in February. Which means winter. So it may mean snow but it is Brussels so usually it is either nice or rainy. And you will go into building and out of building several times per day. Be prepared for it.
Proper shoes to walk on concrete, steps but also snow, mud and grass. Winter cap, scarf, maybe even gloves. Do not have to be thick ones like for some Arctic winter. Assume few degrees above 0°C.
Small backpack and bottle of water. Do not throw away once get empty. You are at university. You can refill your bottle at several places. Tap water is drinkable.
Trash
Do not put your trash in random places. Use trashcans, inform organizers and volunteers if you see full ones. Put bottles into places for bottles.
If you can then stay after ending session and help to clean up. It is free event so help those who organized it for you.
Swag
FOSDEM is a free event. But there is swag. You can go to organizers' desk and donate money to keep the event going. For 25€ you can get the official t-shirt.
Several projects have their own stands — mostly in K building but there are also other ones in AW (mostly related to embedded space).
If you are stickers fan (or your new laptop still have some space on case) then go on a tour, discuss with developers, see what they present. Grab leaflets, stickers, donate some money (usually in exchange to more premium swag) etc.
Or some funny one like this license for VLC I got in 2019: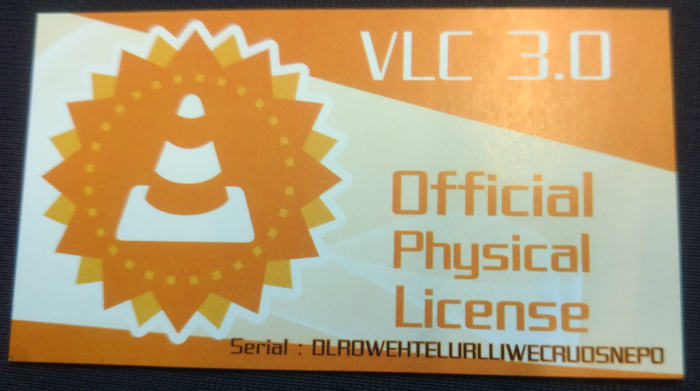 Fiancé(e) or family
If your companion is not interested in FOSDEM you may sign them to free tour(s). My wife came with me to conference once, went for tour each day and enjoyed them.
Other events
There are several meetings taking place right before and/or after FOSDEM.
CentOS Dojo on Friday is a nice opportunity to meet developers working on this distribution. Buildroot developers usually gather after FOSDEM.
Several other projects are having own meetings, developer days etc. You can check list at FOSDEM Fringe page.